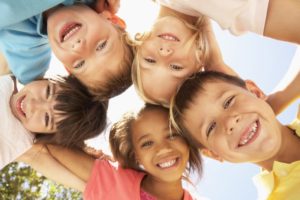 When you take your kids to the doctor, you want a professional with the best qualifications possible. There shouldn't be any exceptions when it comes to your child's oral health. By seeing a dentist for kids in Naperville, you're getting the most specialized care available from a board-certified dentist pediatric dentist.
Not sure what it means to be board-certified? We'll be going over that and the benefits our dentist can provide you in that role. Early development is incredibly important to pay special attention to for dental care, so keep reading to learn about your child's future dental visits.
What is a Board-Certified Pediatric Dentist?
For dentists, the typical educational path is to earn an undergraduate degree followed by a doctorate degree. After getting this education, dentists need to pass written examination and clinical examination before receiving their license to practice dentistry. This is the bare minimum needed to perform any dental duties and varies by state.
Becoming board-certified means your dentist went beyond your state's licensing requirements for practicing medicine. To be board-certified is to promise an ongoing commitment to expand their knowledge in the medical field. A very popular specialty doctors and dentists choose is pediatrics, which focuses entirely on children.
What are the Benefits of a Board-Certified Dentist?
Your pediatric dentist in Naperville has the training and additional years of schooling to understand exactly what's occurring in your child's early oral development. They are also more trained to handle dental anxiety, a very common issue among children seeing the dentist.
Since your dentist is child-friendly, they'll be far more patient and skilled to work with children. They're also more likely to have kid-sized equipment and supplies to make your child's treatments more comfortable. The more comfortable and safe you make your child feel early on, the easier it will be to make regular oral care a long-term habit.
How a Kids Only Dental Practice Benefits Your Family
When visiting your children's dentistry in Naperville, you'll quickly learn all about the importance of establishing healthy habits early. That includes regularly brushing, flossing, visiting the dentist, and managing their diet better. Instead of only getting a general dentist's perspective, you'll be guaranteed to have information targeted specifically to helping your child.
When children are introduced to new habits in a positive and friendly environment, they're more likely to retain these habits recommended by that dental professional. That means less time having to micromanage their brushing habits or reminding them to visit the dentist once they get older. Plus, once your child is in their late teens, your dentist can still see them (up until they turn 21.)
If you have the option to cater your child's oral health from age 1 to 21, why not take it? A dentist for kids in Naperville is the best way to ensure proper development. Schedule an appointment with your dentist today to learn more benefits!
About the Author
Dr. Asim Awan has been practicing dentistry for over 10 years. Before he became a board-certified Diplomate of the American board of Pediatric Dentistry, he earned his undergraduate education at the University of Illinois at Urbana-Champaign. Afterwards, he earned his Doctor of Dental Surgery degree from the University of Illinois College of Dentistry. He then went back to school to become a specialist in pediatric dentistry after working to revive the Boys and Girls Club of Chicago Dental Clinic. To learn more about his practice, contact him at (630) 995-3393 or visit his website.