Tooth Extraction – Naperville, IL
Helping Kids Develop & Maintain the Healthiest Smiles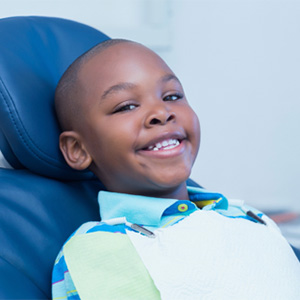 At Tic Tac Tooth Pediatric Dentistry, we're always here to help young patients develop their healthiest smiles – and keep them for a lifetime! In most cases, this means we'll be partnering with our patients and their parents to prevent oral health concerns and repair dental damage as necessary. However, in some cases, the best thing for a child's developing smile is for us to remove one or more teeth. If you want to learn more about childhood tooth extraction, keep reading or give our dental office in Naperville a call today. One of our friendly team members will be happy to answer your questions or schedule an appointment for you and your little one to visit our dental office.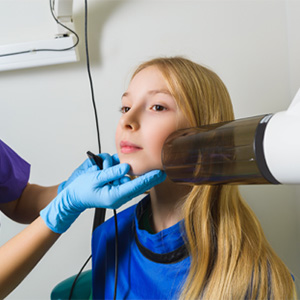 When Would Teeth Need to be Extracted?
The most common reason we recommend tooth removal for young people is when primary teeth fail to fall out on their own. This can block adult teeth from erupting and lead to a need for orthodontic intervention. Wisdom teeth, third molars, are also commonly removed. These teeth emerge in the late teens and early twenties, but most teens do not have the jaw space to accommodate them. This leads to impaction, crowding, misalignment, and other oral health issues. We may also remove a tooth due to decay or damage or prior to beginning an orthodontic treatment plan when crowding is a significant concern for your child.
How are Teeth Removed?
For kids, we can almost always simply pull teeth. This process involves gently shifting the tooth until it can break free from supportive structures. Surgical extraction may be necessary for impacted teeth, wisdom teeth, and a tooth that simply cannot be removed through pulling alone. We will do our best to plan for all eventualities and help you and your child feel confident throughout the process. In many cases, it's best to perform these services with the help of anesthesiologists in our community to provide sedation. If this is the case, we will perform your child's tooth removal in a hospital setting.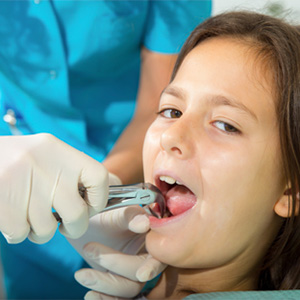 What Happens After Tooth Extraction?
Following tooth extraction, your first priority should be ensuring your child is getting plenty of rest. This enables the body to repair damaged cells and heal more quickly. Make sure your child takes any over the counter or prescription medications as directed to maintain comfort and limit risk for infection. For the first days after treatment, stick to a liquid-only diet. However, do not allow your child to use a straw as this can dislodge their blood clot and lengthen healing time. To help with swelling and inflammation, you can give your child an ice pack to use for 20 minutes at a time. Keep the extraction site clean by removing and exchanging gauze regularly to absorb blood. Your child should still be brushing and flossing their remaining teeth, but make sure they take special care to avoid irritating the surgical site. If you have questions or your child is still in severe pain after the first few days, don't hesitate to reach out to our team. We're here to help!