Meet Naperville Dentist Dr. Asim Awan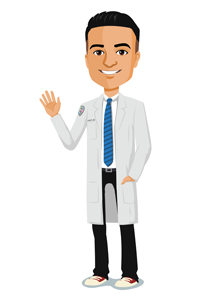 Dr. Asim Awan (or "Dr. Awesome" as kids call him) was born and raised in Chicago, Illinois and has been practicing dentistry for over 10 years. He attended the University of Illinois at Urbana-Champaign prior to receiving his Doctor of Dental Surgery degree from the University of Illinois College of Dentistry, graduating with distinction. In his final year, he was fortunate to be accepted into a General Practice Residency program, which he completed in the Department of Oral Surgery at Indiana University.
Upon returning to Chicago, Dr. Asim practiced as a general dentist for years helping revive the Boys and Girls Club of Chicago Dental Clinic and working with Chicago Public Schools to provide dental care access to students across Chicagoland. Realizing his passion for children's dentistry, Dr. Asim made a decision to go back to school and become a specialist so he could rightfully provide the best dental care for his patients.
Dr. Asim was accepted into Northwestern University and completed his specialty training in pediatric dentistry at Ann & Robert H. Lurie Children's Hospital of Chicago, formerly Children's Memorial Hospital, which is one of the most prestigious and competitive programs in the country. There, he served as Chief Resident of the program and was awarded the Dr. Indru C. Punwani Graduate Student Research Award from the Illinois Society of Pediatric Dentists. Dr. Asim is on staff at Ann & Robert H. Lurie Children's Hospital and Northwestern Memorial Hospital as an attending physician where he holds operating room privileges. Working alongside pediatric anesthesiologists, Dr. Asim is able to provide the safest dental care for children including those with special needs.
Dr. Asim is a board-certified Diplomate of the American Board of Pediatric Dentistry. He is certified in PALS (Pediatric Advanced Life Support) and BLS (Basic Life Support) and is an active member of the American Academy of Pediatric Dentistry, American Dental Association, Illinois State Dental Society, Chicago Dental Society, and the Illinois Society of Pediatric Dentists.
Every child is unique in their dental care needs, and Dr. Asim believes in helping kids grow to value their oral health. His goal is to ensure children have a positive dental experience, receive effective dentistry, and most importantly, that the safest care is provided with only your child's best interest in mind.
Outside of pediatric dentistry, Dr. Asim enjoys spending time with his wife Umera, family, and friends. Being a proud Chicagoan, Dr. Asim is a big fan of all the Chicago sports teams, especially the Cubs and the Bulls. When there is a spare moment, his hobbies include snowboarding, talking cars, basketball, traveling, working on motorcycles, playing video games, and collecting Air Jordans!
More to Explore