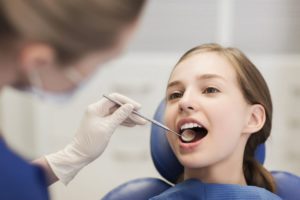 Do you have a teenager? It's likely that they've already reminded you several times that they're not a child anymore! However, just because they're a little bit closer to adulthood doesn't mean that their teeth and jaws have stopped growing. A pediatric dentist for teens has all the specialized training and experience needed to anticipate and treat the unique oral healthcare needs of teenagers as their smiles finish developing. Here are four great reasons why your teenager should visit a pediatric dentist!
1.) Teenagers Are Still Growing
Your child will likely have a full set of permanent teeth around the age of 11 or 13, but that doesn't mean they're done growing. In fact, their jaws and supportive tissues that hold those adult teeth in place will continue to develop and change until they're 16 or 18! A pediatric dentist knows exactly what to monitor during these last stages of development to ensure everything goes smoothly.
2.) They May Need Orthodontic Treatment
As we mentioned, it's normal for the growth of a teenager's teeth to outpace that of their jawbone. As a result, their permanent teeth may become crooked or crowded, or their jaws may not line up correctly. Just like any other oral health issue, the sooner orthodontic problems are identified, the easier and less expensive it usually is to treat them. Thankfully, visiting a pediatric dentist regularly gives them the best chances of spotting and stopping orthodontic conditions as early as possible.
3.) Wisdom Teeth Can Be a Problem for Young Adults
Wisdom teeth are the last of the permanent teeth to come in, usually between the ages of 17 and 25. However, since humans no longer need these teeth, most people don't have enough space in their jawbone or mouth to properly accommodate them. As these third molars begin to come in, they can cause crowded teeth, toothaches, bacterial buildup and a host of other problems. Thankfully, a pediatric dentist can monitor your teen's oral development and determine if and when their wisdom teeth need to be removed to prevent future problems.
4.) Teaching Your Teen Responsibility
The teenage years are all about self-discovery and learning to take responsibility. As your teen becomes more independent, their pediatric dentist can show them how to take charge of their own oral health and develop their own healthy habits. They can help them navigate taking care of their smile during school sports, sugary foods, orthodontic treatments, stressful situations, and all manner of other new challenges that come with being a teenager. This will help equip them for great oral healthcare for the rest of their life.
It may feel like your teenager is growing up fast, but their teeth and jaws still need extra attention. Make sure you help set them up for happy, healthy smiles in young adulthood by bringing them to a pediatric dentist.
About the Practice
Tic Tac Tooth Pediatric Dentistry is proud to offer gentle, compassionate, and thorough children's and teen's dentistry in Naperville. Our talented team has advanced training and a true heart for providing the best care possible for growing smiles. We're pleased to offer a wide variety of services including everything from simple cleanings to more complex treatments like tooth extractions. If you're looking for a dentist for teens, give us a call at (630) 995-3393or visit us online to learn more.