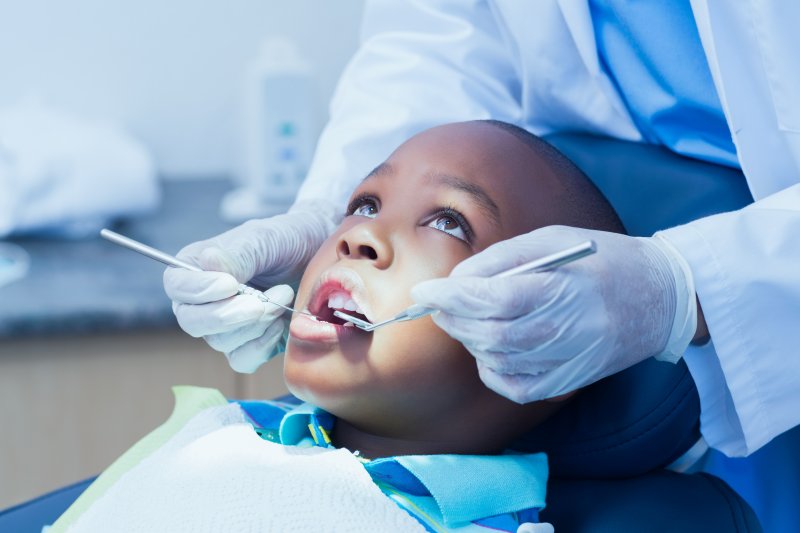 Gum disease, also referred to as gingivitis, is a bacterial infection that destroys the gums and supporting structures of the teeth. In the early stages, it can cause red, puffy gums. In the later phases, however, it can lead to tooth loss. Currently, roughly 50% of American adults are struggling with this serious dental concern, but can kids be affected as well? Unfortunately, the answer is yes. Keep reading to learn about the risk-factors, symptoms to look out for, and prevention tactics to protect your favorite smile!
Risk-Factors of Gum Disease in Children
As mentioned above, gum disease is a serious dental concern that can wreak havoc on the look and function of your child's smile. To protect your little one's teeth and gums, it is important to first understand the common risk-factors, including:
Poor dental hygiene, which causes plaque build-up.
Mouth breathing.
High-sugar diet.
Certain medical conditions, like diabetes.
Hormonal changes.
Teeth grinding or clenching.
6 Symptoms to Look Out For
Since gum disease isn't typically painful, it can often fly under the radar. To prevent that from happening, make sure to keep an eye out for the symptoms associated with this infection, such as:
Red, inflamed, sore gums.
Bleeding while brushing or flossing.
Receding gums.
Chronic bad breath.
Pus between the teeth and gums.
A change in bite or jaw alignment.
Prevention Tactics & Treatment
Simply put, prevention is paramount when it comes to the condition of your child's oral health. That's why implementing dental care best practices from an early age is of the utmost importance. To start, make sure they are brushing for the full two minutes at least twice a day and flossing daily. Next, help them keep their teeth and gums healthy from the inside out by feeding them a vitamin-rich diet, ensuring sugary drinks and beverages aren't a part of their daily regimen. And, of course, schedule a dental checkup and cleaning with their dentist every six months. If their dental team notices signs of gum disease, they can intervene with the appropriate treatment, such as a deep cleaning.
As a parent, one of your biggest roles is protecting your child's overall wellbeing, including their oral health. If they are exhibiting any of the above symptoms or are at-risk for developing gum disease, don't wait to schedule an appointment with their pediatric dentist!
About the Practice
Tic Tac Tooth Pediatric Dentistry is where growing smiles come to shine their brightest! Each of our board-certified pediatric dentists is united behind their mission to use their extensive experience, advanced training, and passion for their craft to create positive, informative dental appointments for children of all ages. If your little one is exhibiting any of the above symptoms or you are simply interested in learning more about gum disease in children, don't hesitate to visit our website or give us a call at 630-995-3393.