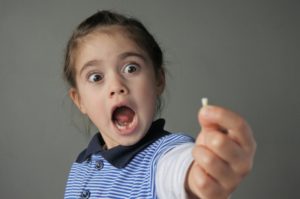 For most kids, losing baby teeth is an exciting rite of passage that means they're growing up. However, for some children, the idea of having a tooth fall out is scary and traumatic. While this isn't an unusual reaction, you can help make this normal process less anxiety-inducing and more fun with a few simple tips! Read on as your Naperville dentist shares five ways to make losing baby teeth less scary for your son or daughter!
1.) Know When to Expect Loose Baby Teeth
If you want to help your child feel more at-ease about losing baby teeth, you need to feel confident about the process yourself. To help you feel more prepared, you can typically expect your child to lose their baby teeth in this order during these general timeframes:
Front upper and lower teeth, ages 6-7
Upper and lower incisors, ages 7-8
Upper and lower first molars and lower canines, ages 9-11
Upper and lower second molars and upper canines, ages 10-12
2.) Read Children's Books or Watch Cartoons About Baby Teeth
There are plenty of children's resources out there that can teach them about what to expect from losing baby teeth. Seeing their favorite familiar characters go through the same process can help demystify the experience and make it more fun.
3.) Play Up the Tooth Fairy
The Tooth Fairy is an age-old tradition that has long infused some childhood magic into losing baby teeth. Of course, the incentive of finding some money or a small gift under their pillow in exchange for their baby tooth can help them overcome their fears as well!
4.) Put Rumors to Rest
Your son or daughter may have heard some scary rumors from their friends or classmates about what it's like to lose baby teeth. Be sure to take the time to explain to them what's happening, debunk any myths they've heard, and reassure them that losing baby teeth is a completely natural process.
5.) Celebrate It as a Milestone
Another way to encourage your child to feel excited about losing their baby teeth is to plan on celebrating it! As the tooth gets closer to falling out, talk about it in a positive tone and plan a small reward for them once it happens, such as an outing to the park or movies, their favorite meal, or a small toy. This will help them associate the experience with positive feelings, good memories, and a sense of pride and accomplishment.
Losing baby teeth doesn't have to be scary for your son or daughter! Use these simple but effective tips to help them feel more confident about this exciting aspect of growing up.
About the Practice
At Tic Tac Tooth Pediatric Dentistry, we're proud to showcase the talents of an entire team of board-certified pediatric specialists. Not only do they have the advanced training and state-of-the-art technology to ensure your child gets the specialized care they need, but they are passionate about making oral health care fun for kids. They will be more than happy to walk you through the best ways to care for your little one's precious smile as it grows through every stage of life. If you have more questions about baby teeth, they can be reached via our website or at (630) 995-3393.