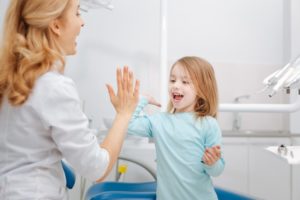 As a parent, you take the time to research the best options for your child, whether that's the school you enrolled them in, the food you feed them, or the dentist you take them to. It's important that your little one is healthy, happy, and well cared for. When it comes to their mouth, you want them to have access to the knowledge and treatments they need to maintain a healthy smile as an adult. Your pediatric dentist in Naperville breaks down the most advanced dental technology and their benefits. Read on to learn about the importance of equipment when working with delicate small smiles.
Intraoral Camera
These small digital cameras attached to wands allow dentists to take pictures of areas that are hard to reach in the mouth. They're not only powerful and effective tools, but they can help professionals find hidden issues by enlarging images of teeth, oral tissues, and gums on a monitor. These tools capture high-quality images and videos, and because they're about the size of a pen, your child won't have to worry about their mouth being obstructed by a large object.
This tool has been around for about 25 years, but with technological advancements, they're lighter, clearer, and better than ever. Your children's dentist in Naperville will be able to easily detect tooth decay and oral disease symptoms in a less-invasive way with this tool.
Digital X-Rays
Between film and digital X-rays, most dentists will agree that digital ones allow them to safely care for their patients without exposing them to higher amounts of radiation. While the film costs less, it can't provide the same image quality. Benefits that digital X-rays offer that film ones don't include:
Use 70% less radiation
Less time-consuming
Easily stored on a computer
Can be transferred to other dentists easily
More environmentally friendly
With this new technology, your dentist for kids in Naperville won't let an issue go undetected. Your child will also be more comfortable and won't have to deal with razor-like inserts cutting into the sides of their mouth.
The Wand
This device is a small computer-assisted tool that helps dentists gently and efficiently perform anesthesia injections. Not only is it less painful than administering anesthetics via a syringe, but it allows contains the numbness to the area that's being treated.
This tool is especially helpful to have when working with children because it's more comfortable and greatly reduces anxiety because they don't have to see a syringe. It also eliminates collateral numbness, meaning they won't have to go back to school with a numb face.
Staying up to date with the latest advancements in technology is vital for any dentist, but even more so when working with small smiles that are less accessible. With certain tools, your child's dentist is able to leave no stone left unturned and spot problems that would normally be more difficult to see. Your child can have a healthier and happier smile when they get the modern care they need!
About the Practice
Tic Tac Tooth Pediatric Dentistry offers the expertise and knowledge of three specially trained pediatric dentists. They strive to create a fun and welcoming environment where children can learn about their oral health all while having fun! They look forward to giving your child the highest quality of care by utilizing the most advanced technology and treatments in their field. For any questions or to schedule an appointment for your child, visit their website or contact 630-995-3393.