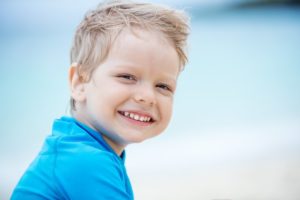 Summer was filled with laughing and playing, but it's almost time for your kids to head back to school. Have you taken care of their back to school list yet? Here's something that's not on their list but is a lot more important than binders and notebooks: your child's oral health. Your pediatric dentist in Naperville has some great tips on how to set your son or daughter up for oral health success and how to keep their teeth clean throughout the school year!
Tip #1: Visit Your Dentist
According to the American Dental Association, dental examinations are just as important as immunizations and booster shots when making back to school preparations for your child. What's even more surprising is that dental disease causes children to miss more than 51 million hours of school each year.
Attending regular dental checkups, especially before school starts, will ensure your child's mouth is healthy and prevent them from missing days of school with possible dental issues. Parents and teachers may not realize that their children have an oral health problem so scheduling a dental checkup before school starts will diagnose and treat these issues before they get worse.
We recommend that you take your child in for dental checkups at least once every 6 months to prevent tooth decay, cavities, and much more.
Tip #2: Brush and Floss the Right Way
We hope your children are already brushing their teeth, but are they brushing the right way? When your son or daughter is brushing their teeth make sure they:
Use a soft-bristle toothbrush to keep their teeth and gums from getting too sensitive.
Tilt their toothbrush at a 45-degree angle at the gum line for the best cleaning.
Brush all surfaces of the teeth, especially the hard to reach areas.
Brush their teeth for at least 2 minutes each session twice a day.
In addition to brushing correctly, see that your children are flossing once a day to remove plaque in between the teeth. Flossing picks (premade easy strings of floss) can be a simple tool to help your kids floss.
Tip #3: Pack Healthy Lunches and Snacks
Diet directly affects your oral hygiene so be sure that you're giving your children healthy food and a balanced diet. Cutting back on things like soft drinks, candy, and other sugary acidic food items helps prevent missing school for cavities and other dental problems.
Tip #4: Ensure Your Children Have the Equipment They Need
There are a few oral hygiene products you can buy that will save your loved one's smile, and some time and money down the road. When purchasing your child's toothbrush, buy multiple. You can buy various colors your son or daughter likes, making their experience more fun when its time for a new toothbrush (every 3 months).
If your child plays any organized sports, get them a properly fitted mouthguard. This can save their teeth from physical harm. A mouthguard can also be used in physical education class and playground activities. This will help prevent your child's teeth from getting knocked loose or worse—knocked out.
Now that you have our 4 back to school tips, your son or daughter is ready to have a fun and healthy school year. Contact your local dentist to schedule your children's back to school visit today!
Meet The Dentist
Dr. Asim Awan has experience practicing general dentistry but has found his passion in caring for and helping children. He is a board-certified Diplomate of the American Board of Pediatric Dentistry. He currently practices at Tic Tac Tooth Pediatric Dentistry and believes each child is unique in their dental care needs. For any further questions you may have, he can be contacted by phone at (630) 995-3393.