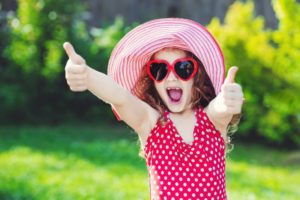 You wouldn't entrust your oral health to just anyone, would you? Before you chose a dentist for yourself, you probably did some thorough research and read patient reviews. Should you be any less careful when you're choosing a pediatric dentist in Naperville to care for the youngest smiles in your family? No. Indeed, you might even be more careful when you're searching for a tooth doctor for your child.
Our practice is proud to have received over 100 5-star reviews across Google and Facebook. We invite you to take a moment to discover why our patients (and their parents) love us so much.
"Dr. Awesome"
Dr. Asin Awan is the name of the children's dentist in Naperville who leads our team, but he is more commonly known as "Dr. Awesome." He is a pediatric specialist and is qualified to care for all the needs of little smiles, but it isn't just his knowledge and experience that make him amazing. Check out what a few parents have had to say about him:
"The doctor was truly amazing; I can see why they call him Dr. Awesome. He explains what is wrong with your kids teeth in great detail and leaves time for any questions that you might have." — Paulie Potenza (Google review)
"My son had his 1st dentist visit today here and it was beyond amazing! It was important for me to be with him at least for his first visit and Dr Asim and his staff were very supportive of that! Dr Asim is patient and takes his time answering your questions and helping kiddos have a fun experience!" — Mili Khanna (Google review)
Our Great Staff and Fun Atmosphere
Everyone in our office loves to work with children and get to know their families. We give our patients a warm welcome when they arrive and strive to make every aspect of their visit a treat. Our reviews reveal that we often succeed in reaching that goal!
"The office is so cute and set up perfect for kids. The waiting room has toys, books, movie playing on the tv…everything to make a little kid happy. The staff was so kind and thorough with their explanation of what they would do with our son." — Jenn McDonald (Facebook review)
"The office itself is very bright and kid friendly! The staff are all smiles and interact well with your child to make the visit welcoming and fun." — Gigi Denise (Facebook review)
Would You Like 5-Star Care for Your Child?
We love to read glowing reviews of our practice, but we don't do what we do just because we like all the praise. We do it because we genuinely care about our patients and their families. After all, we know how important it is for kids to receive quality dental care from an early age; it can prevent problems and set them up for a lifetime of healthy habits.
If you would like to discover for yourself why so many of our patients adore us, or if you simply have questions about Dr. Asim or our practice, please don't hesitate to contact us at 630-995-3393. We would love to be your dentist for kids in Naperville!