Orthodontics – Naperville, IL
Achieve a Straight Smile with Braces or Invisalign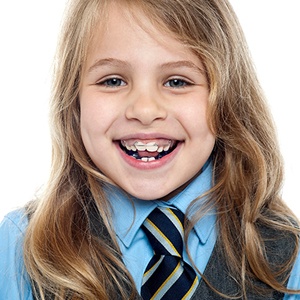 A straight smile plays a significant role in your child's self-esteem; however, it also impacts their development and their oral health. When their teeth are not in their proper positions, it not only creates aesthetic concerns, but it can also lead to an increased risk of tooth decay, gum disease, and bite issues. At Tic-Toc-Tooth, we provide orthodontics in Naperville for children and teens. We create the personalized treatment plan they need for a healthy, beautiful smile.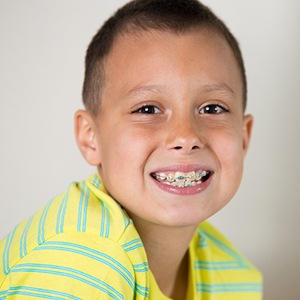 When Does My Child Need a Consultation?
We recommend your child has their first orthodontic consultation around the age of 7. Although this may seem young, this allows us to correct issues while they are still small and before their body finishes growing. By quickly intervening to resolve alignment and bite problems, it lessens the need for a more extensive treatment as they age.
During the consultation, x-rays and photographs are taken to gain a complete picture of your child's oral structures. This allows us to see certain issues that may be brewing beneath the surface, even the positioning of adult teeth before they erupt. Based on our findings, we create a customized treatment plan to move their teeth into their ideal positions.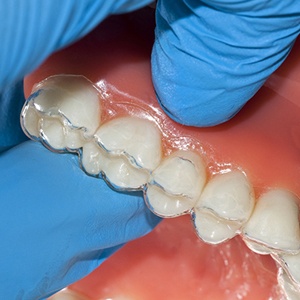 Traditional Braces
Traditional metal braces are the most common solution to treat even the most complex bite and alignment concerns. Brackets are bonded to their teeth to hold an arch wire. Throughout their treatment, adjustments are made to the wire to gradually pull their teeth into position. The constant pressure moves the teeth to resolve gaps, overcrowding, or rotation issues.
On average, braces are needed for 18 to 24 months; however, the duration is determined by your child's individual needs. Throughout their treatment, they will need to see us every 4 to 8 weeks for adjustments and to monitor the movement of their teeth.
There are also a few dietary restrictions, such as avoiding chewy foods, to prevent the braces from breaking. Your child will need to maintain their oral hygiene, carefully cleaning around the brackets and wires at least twice a day.
Invisalign
As an alternative to metal braces, many teens have come to prefer Invisalign in Naperville. This offers a nearly invisible treatment to help them feel confident while their teeth are aligned. Digital impressions of their mouth are used to create a series of clear plastic aligners. They wear each aligner in the series for about 1 week before switching to the next. On average, it takes about 12 months to finish the series.
Invisalign provides a discreet and sophisticated solution that resolves many of the disadvantages of traditional braces. There are no dietary restrictions and oral hygiene is easy. They will also spend less time in the dental office because they do not need appointments for adjustments, but we will need to see them every few weeks to monitor their progress.
Invest in a Healthy, Straight Smile
You can give your child the gift of a healthy, straight smile using an orthodontic treatment that accommodates their needs. Contact our office today to schedule their consultation.